Deer Lodge George Jones Tribute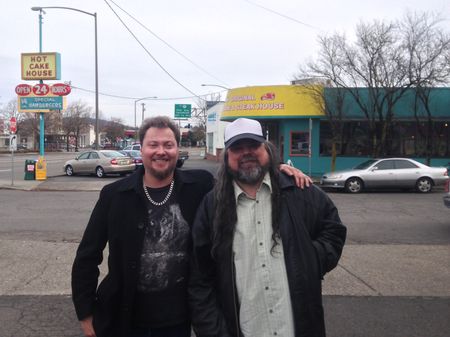 Another high school/college hero of mine is Shawn Smith.  I listened to his Pigeonhed "Full Sentence" album almost every day after it came out back in the late 90's.  Last year I got into his solo work when I was directing a movie, and used one of his songs in the trailer.
It was a long shot, I thought, to ask him to contribute a song to this compilation because as far as I knew he had no country leanings in his music at all.  But my approach in this project was to be as bold as possible, and I was happy when he got back to my email within minutes with a simple "Yes."
It was a trial in faith to get this song done because I didn't want to pressure him or annoy him, but the deadline was approaching and we needed the song.  I wanted to give him every benefit of the doubt because throughout the whole process he had said he definitely wants to do it, he's definitely in.  I knew he genuinely wanted to do it.  We need to believe in our heroes, because if our heroes let us down we die a little bit.  So I didn't give up, right until the end.
At 2:30 am the Monday morning of the deadline, I awoke after going to bed at midnight, for reasons still unknown to me.  I instinctively checked my email, and there was the track of "Ghost of Another Man" from Shawn.  And it was beautful – truly haunting.  One of my favorite tracks and stories from the album.
A really cool pick too because this song was only recently released as a bonus track in George's catalog.
On Feb. 22nd in Portland I actually got to perform this song wth Shawn – you can watch the video of that performance here:
Here's George doing the song (audio only):