Deer Lodge George Jones Tribute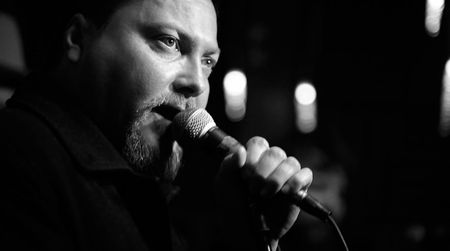 I struggled to settle on a song to do, because there were so many deep cuts to choose from ("Bone Dry," "The Brothers).  But as time went on I decided to not fight it and just do the song that I was most feeling at the moment. 
That was a random 90's track of George's that was a little hokey and corny but that I never forgot, during a time in my youth when I was really searching.  It just stuck with me.
Ezra and I had a day between sessions and I knew that this was the day I had to get my track done.  I recorded the acoustic to a click track, one take.  Then I recorded the vocals, also one take.  No overdubs.  Right after that I went home and got deathly sick for the next 3 days.
Ezra and Jay Leaver and Keith McCarthy laid down the other tracks when I was in bed, sending me updates and pictures throughout the process.  I'll never forget that feeling of your friends "having your back."  Seeing them in the studio recording parts to fill out my track while I lay in bed unable to hold down even a sip of water, was a powerful experience of gratitude.  I really felt the love.
Ezra worked so hard to get this track sounding great, I forever owe him.  Without him, it wouldn't have gotten done.
I asked David Lipkind to come in and do some harp on the track, and in three takes he had a great one that really completes the track.
No one's ever going to sing like George Jones, but it is possible I believe to be as honestly emotional in one's singing like George was.  I think for this one moment because I knew I only had one take in me, I decided to not fuck around with artifice and mimicry.  I just gave it all I had.